Click here to download a PDF of advertising opportunities.
From Edge Ahead Associates, producer of ArborEXPO, comes ArborTIMES, a fully digital publication to educate and inform the tree care industry. This online magazine enables us to expand our reach to more individuals and companies and keep in touch with the industry between events. Your advertising dollars support this effort—we couldn't do it without you.

PPE — hard hats, eye protection, hearing protection, and fall protection — are a must for photos depicting field work.
Website Banner Ads
$500/month One Banner ad.
(pick a size highlighted in yellow)

$1,000/month Two Banner ads. ArborEXPO/ArborTIMES exclusive partner. (Placed on both websites, larger ad sizes, highlighted in green.)
multiple month discount available on request.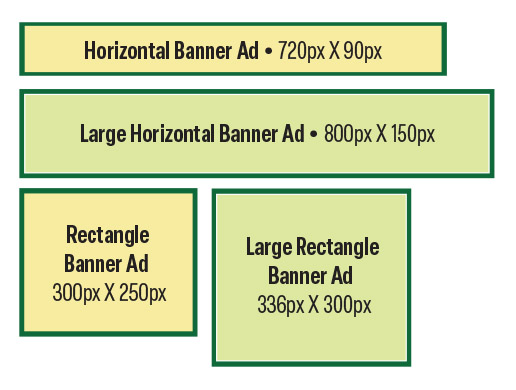 Our subscribers include professionals across the green industry specializing in arboriculture, pests, safety, technology, equipment, and more. From residential and commercial tree care, to municipal teams, to line clearance, to disaster recovery, with your support we are able to provide timely, valuable information to support growth at the micro and macro levels and help the industry work more safely.
Safety begins with teamwork. We leverage subject-matter experts to ensure all images, including advertising and editorial, reflect the ANSI Z133 Safety Standards and OSHA requirements for safe tree work. If you have questions about your advertising graphics, please reach out to us.
OUR REACH IS CLOSE TO 19,000 PEOPLE AND GROWING EVERYDAY.
Interested in placing an ad?
Contact Sachin Mohan at
(516) 399-2627 or email
[email protected].
Please supply artwork as 300 dpi in PDF, TIFF, or JPG format to:
Richard May at [email protected].